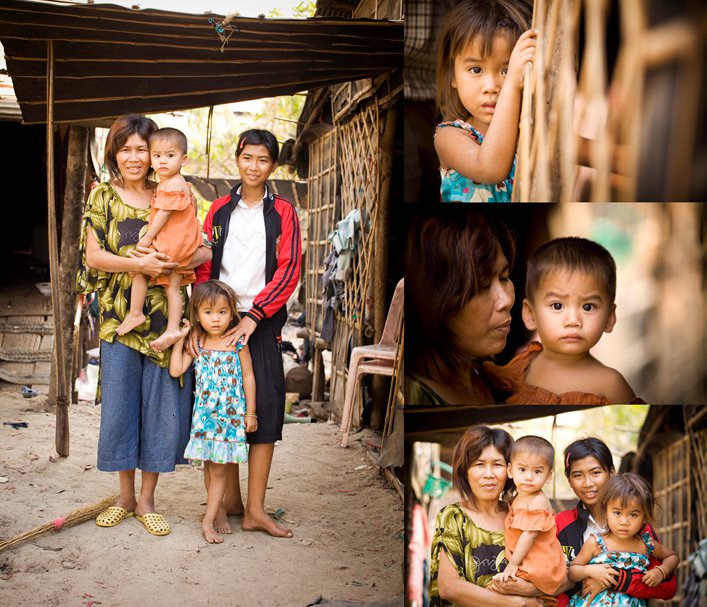 Ee Ith joined the project in 2008. In addition to seven children of her own, six relatives, including an elderly mother, live with her in their small home. In the past, her children irregularly attended school because they had to work at home and look after their brothers and sisters, and furthermore, Ee Ith did not have enough money to cover the school fees. Now, all of the children under the age of 15 go to school regularly.
Ee Ith earned $96.70 per month before joining CfC. While producing carpets, she earned an average income of $120 per month (as of 2010). Her husband works as a cart-pusher at the Thailand border and earns $2.50 per day to help support his family. During her time with CfC, Ee Ith has established her own recycling collection business. She invested in transportation to collect recyclable materials and now has a business that is sustainable. Her average income is $2.5 per day.
This income still does not cover all the day-to-day costs for such a large household, so they must borrow money from their neighbors and buy commodities on credit. Nonetheless, the family has access to clean water and sleep under mosquito nets, which has notably improved their health.
Ee Ith feels 100% confident that her life has improved since joining CfC; she can now feed her children with quality food and prevent sickness. Still, she doubts her ability to guarantee that her children reach their fullest potential. She wishes for them to attend university and with her future earnings making carpets, wants to provide them with bicycles, stationary, and books. For one of her kids this dream has now become reality as her son Premprey has joined our scholarship program and is studying in Phnom Penh.