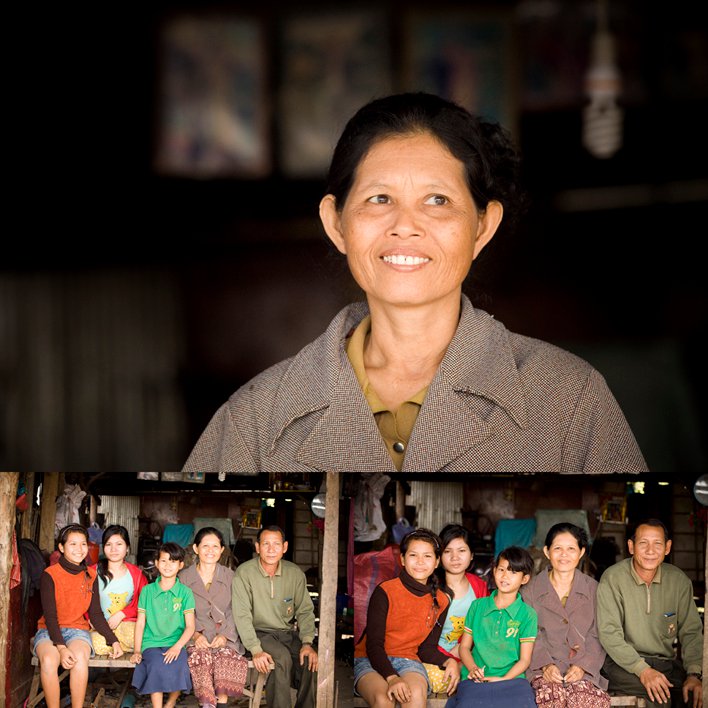 Lim Channa has worked with CfC since 2005. She has seven children, four of which are school-aged. In the past, her school-aged children attended school irregularly—her two daughters had to work at home to take of the baby sister and do house work. Two sons worked in the rice field instead of attending school, and two other sons aged 16 and 17 did not enrol in school at all; instead, they worked to support themselves. Now, the children between the ages of six and 15 have the opportunity to study as Lim Channa earned $120 per month making carpets. Before she joined the program, she earned only $32.25 per month.
Besides this income, her family runs a small business. They bought six pigs for $300, reared them, and then sold them for $450. Since their income equals more than the monthly costs, Lim Channa can save money for one of her children's marriage. They also had enough money to purchase a generator for electricity. She does, however, have an outstanding loan from her son's past court fees. She still owes $480, and worries that spending this money on an old debt should instead be used for education.
She also started –with the CfC microloan program- a new tailor business generating immediate turnover by repairing and making her own shirts to sell locally. She works with her two adult daughters. With the profit she is making, she continues to repay her loan.
Lim Channa feels 100 percent confident that she can feed her children, but less so that she can continue sending them to school and keep them healthy. Yet, she is sure that her family's life has changed for the better since joining CfC. Her husband used to be an alcoholic, now, instead of drinking he stays home helping out with the business.